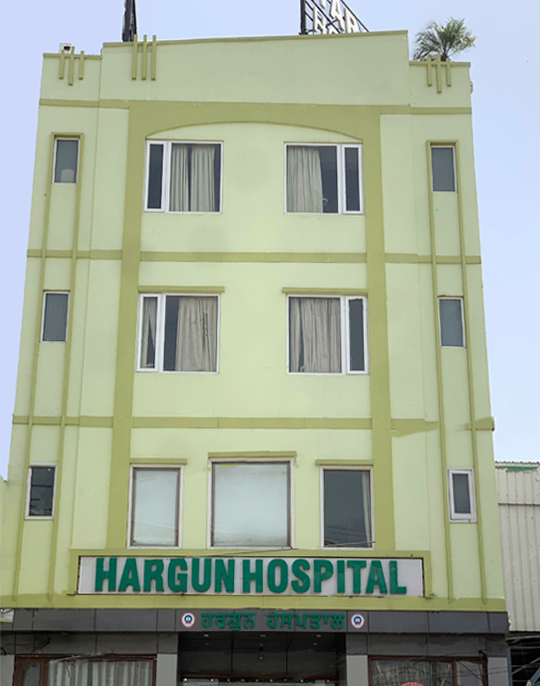 Hargun hospital
Welcome To Dr. Gurvinder Singh's -
Hargun hospital
Hargun hospital was started on 14 February 2010 with the aim of providing world class healthcare facilities to the patients. The hospital is prominently located at Batala road, Amritsar at a distance of approximately 3 kilometers from the local bus stand and railway station and approximately 8 kilometers from Amritsar international airport. At Hargun hospital we continuously strive to provide our patients with the latest and high-quality health care with utmost passion. Trauma care, Joint Replacement, Orthopedics, Plastic and Micro Vascular Reconstructive Surgery, Neurological Surgery, General Surgery, Critical Care, Pain Management and Cosmetic Surgery are among our specialties. Our endeavor is to provide comprehensive care to our patients from the time they come to us till they are fully recovered.
Hargun hospital, you will find a team of expert physicians, nurses, and staff working together to provide you with advanced medicine in a personalized and caring environment. We believe that continuous quality of care and performance improvement is the foundation for preserving and enhancing health care delivery.
Emergency
Hargun hospital has dedicated emergency receiving area capable of handling multiple emergencies at any given point of time. The department is manned by well qualified and experienced doctors and nursing staff. Services of specialist and super specialist doctors, willing to tackle any kind of complicated emergencies , are available around the clock. The emergency department also has access to lab facilities, X-ray and specialised investigation available 24X7. The hospital also has 24 hours pharmacy service.
Mission
At Hargun hospital, our mission is to bring healthcare of highest standards of patient care within the reach of every individual. We are committed to the achievement and maintenance of excellence in the field of healthcare for the sole benefit of humanity.
Vision
Our vision is to be the most well regarded healthcare provider in India, committed to the highest standards of clinical excellence and patient care, supported by latest technology and cutting edge research.
Value
We have a deeper level of patient understanding and are always empathetic to their needs. This builds a culture of providing a higher standard of patient-centered care. We respect each other and our patients and make sure their needs are met with dignity.
Hargun hospital
Our Facilities